Still at War: Dealing with Oregon's Veteran Defendant Crisis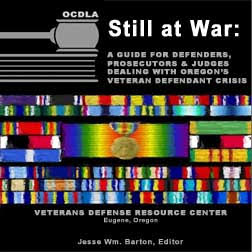 Product description:
Edited by Jesse Wm. Barton.
Still at War: A guide for defenders, prosecutors & judges dealing with Oregon's veteran defendant crisis.
Updated in 2020 to include analysis of
Pike v. Cain
and more.
____
Odds are great that you have represented at least one veteran defendant or been involved in a case with a veteran. The questions are:
1) Did you even know it?
2) Did you defend the client any differently as a result?
Still at War
is a cutting-edge publication for OCDLA. Featuring the collaborative efforts of skilled defense attorneys and experts in veterans defense, as well as contributions from an experienced investigator, prosecutor, and Veteran's Treatment Court judge, the information in this book will not only save you many hours of chasing down foxholes in search of authoritative answers, it will make you a better lawyer.
The low price point—far below the fair value of this book—is a discount designed to maximize use of this vital information for effective handling of cases involving veteran defendants.
Original Cover Design: Jennelle Meeks Barton
Table of Contents:
About the Authors
Dedication. Jesse Wm. Barton
Foreword. Jesse Wm. Barton
Introduction. Jesse Wm. Barton
1. Legal Considerations, Including Bar Performance Standards & Diversion Options. Jesse Wm. Barton
2. Veterans Defense Resource Center. James Gardner
3. Investigation & Mitigation Services, and the Veterans Justice Outreach Program. Cindy Borders
4. Military Records & Witnesses. Privacy Act, FOIA Requests, Touhy Regulations. Bryan Boender
5. The Relevance & Influence of Military Culture. William Brown, PhD
6. Veterans, Combat Injuries, Military Training & Criminal Justice. Robert G. Stanulis, PhD
7. Impact of Warzone Deployment. Suzanne Best, PhD
8. The Relevance & Influence of Moral Injury. Jaimie Lusk, PhD
9. Unique Considerations in the Representation of Female Veterans. Lori Daniels, PhD, LCSW, and Emily De La Garza
10. The "Good Soldier" Defense. Amy Lammers
11. The Effects of Arrest, Conviction & Incarceration on Federal VA Benefits (pre-entry considerations). Katrina Eagle
12. Mastering the Challenges of Representing Veterans: Strategies for Successful Resolutions. Terri Wood & James Gardner
13. Representing Veterans in Federal Court. Rich Federico
14. Prosecutors' Considerations. Michael Swanson
15. Best Practices in Veterans Courts: Lane County's Approach. Honorable Ilisa Rooke-Ley